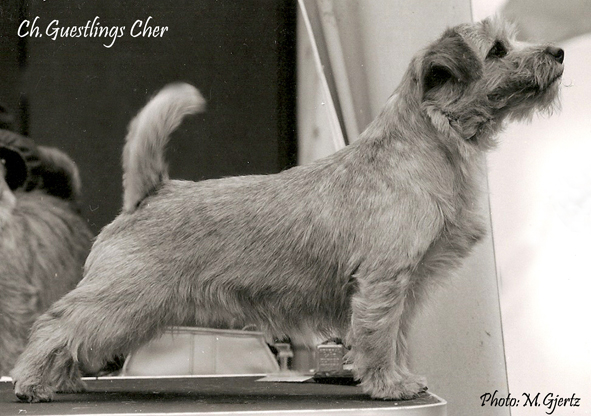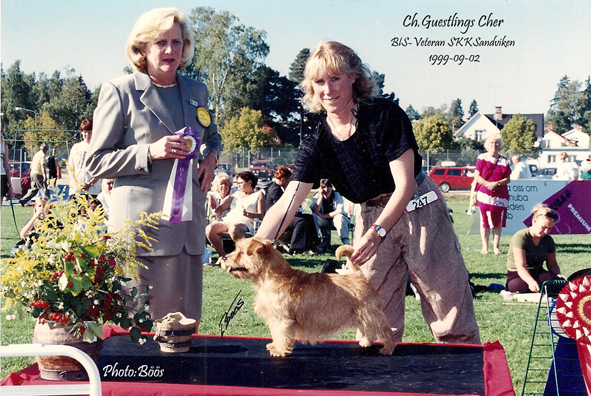 Foto:M.Gjertz &copy Foto:Böös &copy
Stamtavla för Ch.SV-95.Guestlings Cher född 91 01 26
farfar Ch.Easy Never Say Never Again
farfarsfar Ch.Guestlings Catch a Star
far Ch.Guestlings Highlight

farfarsmor Ch.Teatime´s Candy Sugar
farmor Guestlings Candlelight
farmorsfar Ch.Cracknor Canterbury

farmorsmor Ch.Redriff Rambling Rose
morfar Ch.Gainsay Striking Gold
morfarsfar Ch.Stall Mascot Airmail
mor Ch.Guestlings Waikiki Way

morfarsmor Ch.Jail Bait of Woodhill
mormor Guestlings Teatime Tiddles
mormorsfar Ch.Nanfan Category

mormorsmor Ch.Redriff Rambling Rose
Ch.SV-95.Guestlings Cher, Poppe, debuterade på sin 9 månadersdag med att bli BIR på SKKs utställning i Jönköping.

Hon vann BIS på SNTKs vårutställning 1992.

Poppe var ÅRETS NORFOLK 1992.

ÅRETS TIK 1993.

2:a ÅRETS TIK 1994-95-96.

ÅRETS VETERAN 1998.

1998 var hon BIS-VETERAN på ÖsTeks utställning i Hallstahammar.

1999 vann hon BIS-VETERAN hos SKK i Sandviken.

På SNTKs höstutställning 1998 var hon mor till både BIS och BIS-valp, var själv BIS-veteran och ingick dessutom i BIS-vinnande uppfödargrupp tillsammans med sin far Ch.Guestlings Highlight och sin dotter Ch.Guestlings Popstar, tre generationer BIS-vinnare på rasspecialer i samma uppfödargrupp!

Poppe är mor till nio champions, Ch.Guestlings The Star, Ch.Guestlings Popstar, Ch.Guestlings The Right One, Ch.Guestlings Right Here, Ch.Guestlings Right On, Ch.Guestlings Rather Posh, Ch.Guestlings Poetry in Motion , Ch.Guestlings Tortellini och Ch.Guestlings Toreador.