WELCOME TO KENNEL GUESTLING!
---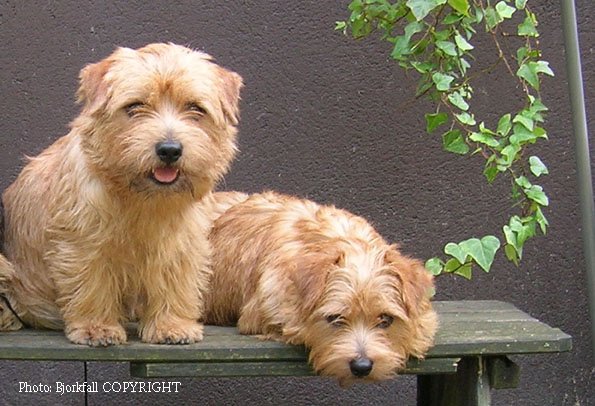 "CENTER">
---
My name is Susann Bjorkfall, since 1981 I breed Norfolkterriers, my kennelname is GUESTLING.
1979 the first Norfolk came into the house, that was Artan, Ch.LP.Redriff Sweet Pea, (LP stands for merits in obedience). She was an incredible charmer, and she showed me that a Norfolkterrier loves to do a lot of things. Artan took part in obedience, in agility, was pretty at shows, fetched mice, (she took her first within half an hour, first time out in our countrycottage, only four months old!). She was biking (sitting in the basket), searched for mushrooms (she taught me to find them, the mushroom we used while training we got from a friend. In the beginning Artan mostly searched for Frolic, which was the reward when she found a piece of mushroom. First time when we were training out in the woods she was very dissapointed because there were no pieces of Frolic out in the scrubs, so I had to change the way of training, and then it was mushrooms she searched for.)
The years goes by, this year it is 38 years since I bred my first litter of Norfolks. 79 Guestling-Norfolks has achieved championtitles.
In 1996 I was awarded The Swedish Terrierclubs medal for meritorius breeding.
In 2011 kennel Guestling was awarded "Hamiltonplaketten" from The Swedish Kennel Club for meritorius breeding.
---
Are you interested of more information regarding puppies, studdogs, stripping the coat or information about the breed? Call,fax or write!

All photos have copyright!