Ch.Guestlings Tough Enough
1994 03 15 - 2008 05 22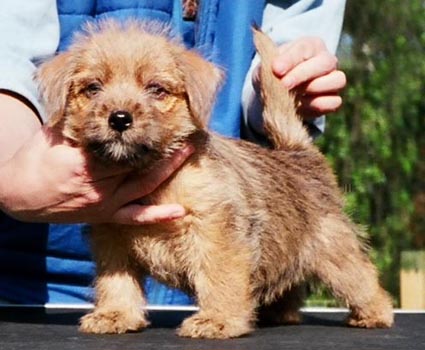 Tuff was born as number one of 3 boys, March 15th. 1994. They did get the names Tough Enough, Tough Terrier and Tough Mr.Beaverton. Tough after their father Ch.Jaeva Tough Cookie. Their mother was Ch.Guestlings Waikiki Way.
His showcareer was long, he had big wins as a puppy, during his prime and as a veteran. And also as the father with offspring in progenygroups. Among the wins are:

BIS-PUPPY at the breedspecialty 1994, judge Geir Pedersen
BIS-3 JUNIOR at a Terrier Club Ch.Show 1995
BIS-5 YONGSTER at a Terrier Club Ch.Show 1995
BEST OPPOSITE SEX at the breedspecialty 1997, judge Marie Carlsson
BIS-VETERAN at The Terrierclub Ch.Show at Skokloster 2001, judge Petter Fodstad
BIS-2 VETERAN at The Swedish Terrierclub´s 100-years Jubileeshow 2003, judge Jane Miller
BIS-2 VETERAN at The Terrierclub Ch.Show at Högbo 2004 (10,5 years old), judge Bengt Nilsson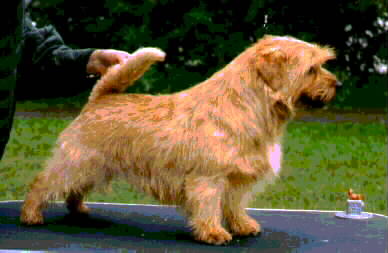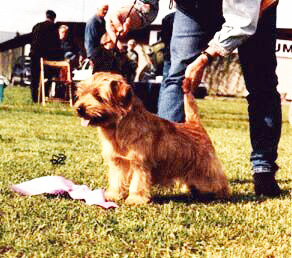 Photo:Lindsjö © Photo:T.Lardner ©

BIS-progenygroup at the breedspecialty 1998 judge Elisabeth Matell
BIS-progenygroup at the breedspecialty 1999 judge Rita Mitchell
BIS-progenygroup at the breedspecialty 2004 judge Lesley Crawley.
The group had 4 dogs from 4 different kennels and was best of 3 competing groups.
STUDDOG of the YEAR Swedish Norfolk Terrier Club 2005
STUDDOG of the YEAR Swedish Norfolk Terrier Club 2006

Was given CK (being of Championquality) also at his last show, the breedspecialty 2007, judge Beth Sweigert, USA.
Tuff was 13 years and 3 months old, and his bite still correct!
At the same show his youngest son was BOS-PUPPY and a daughter was BIS-VETERAN!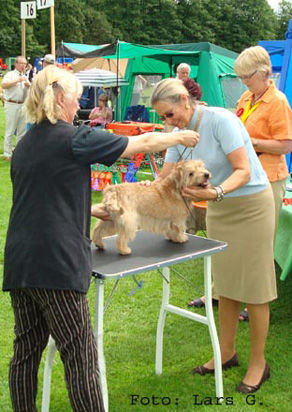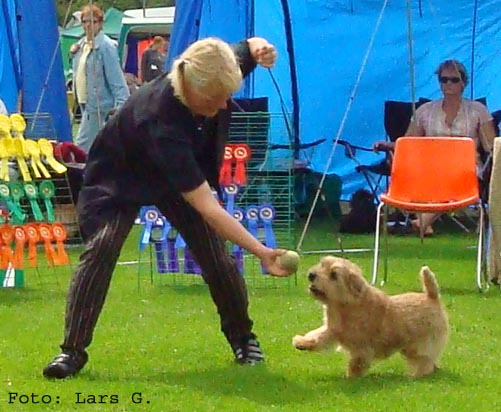 Photo: Lars Gyllensson ©
---
THREE of his kids has won BIS-JUNIOR at The Terrier Club´s Championship Shows, two of them twice!
Guestlings Cool Enough (2 CC´s and then never shown again (!) ) 1998 in Borlänge.
Ch.Nässtugan´s Qvadrat 1999 in Borlänge and Skokloster.
Ch.Guestlings Smart Enough 2004 in Taxinge and Bjuv.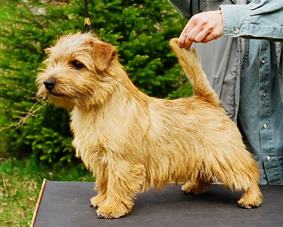 Ch.Nässtugans Qvadrat
---
And also:
Ch.Guestlings Big Enough was BIS-3 JUNIOR in both Skokloster and Karlstad 1998.
Ch.Guestlings Strong Enough was BIS-2 JUNIOR in Piteå and BIS-4 junior at Skokloster in 2000.
---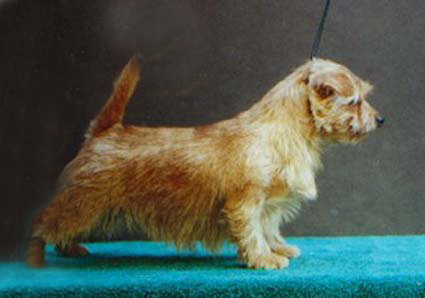 Ch.Guestlings Strong Enough has also proven what a brilliant broodbitch she is by being:
BROODBITCH of the YEAR at The Swedish Norfolkterrier Club 2004-2005-2006-2007-2008 and 2009!
She is the mother of Ch.Guestlings Hall of Fame, Norfolk of the Year, Studdog of the Year and BIS at the breedspecilty in Holland. He is owned by Atie and Cor de Boer , Holland. Ch.Guestlings Halloumi, owned by M-A-Samuelsson. Ch.Guestlings Hip Hip Hooray, TOPWINNING SWEDISHBRED NORFOLK 2004. Ch.SV-04 SV-05 NORDV-07 Guestlings Glittertind, TOPWINNING NORFOLK BITCH 2006. Ch.Guestlings Grieg, who gained his championtitle in four shows, not shown since. Ch.WW-08 Guestlings Mainly for Fun, BOB at THE WORLDSHOW in Stockholm 2008, TOPWINNING NORFOLKBITCH 2008, TOPWINNING SWEDISHBRED NORFOLK 2008 and TOPWINNING SWEDISHBRED NORFOLKBITCH 2009!
---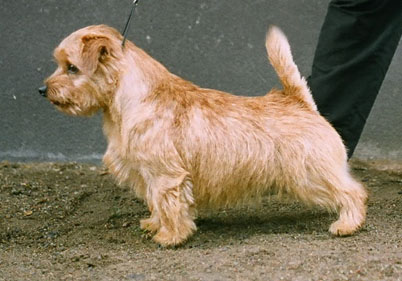 S.N.Ch.Guestlings Smart Enough who except for his two times BIS-JUNIOR also was BIS-3 youngster in Sollentuna 2005.
BEST-IN-SHOW at the Norwegian breedspecialty 2005, judge was Elisabeth Matell.
BOB at TERRIERDERBYT, The most prestigious of the Swedish Terrier Club´s shows, 2005 also here with Elisabeth Matell judging.
TOPWINNING SWEDISHBRED NORFOLK MALE 2005.
2006 he was BEST-IN-SHOW at the Swedish breedspecialty, judge was Mrs.Dot Britten, England.
He was BIS-3 at The Terrierclub´s Ch.Show in Bjuv 2006.
Smart Enough was also #10 on the Swedish Terrierclub´s list of TOPWINNERS 2006 (all terrierbreeds)
---
Ch.Guestlings Charming Enough is littersister to Smart Enough. 2008 she won BEST-IN-SHOW at the Norwegian breedspecialty.
This is breedhistory because two littermates won BIS at the Norwegian breedspecialty! Charming Enough is owned by Marianne Gudem-Olsen, Norway.
---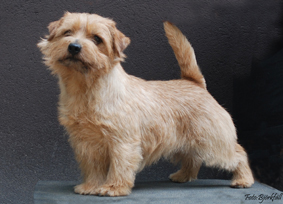 NORDJV-07 Guestlings Bright Enough has, still too young to get his championtitle, won for instance Group-4 at The KC show in Vänersborg 2008.
Bright Enough won BEST-IN-SHOW at the breed specialty 2012 08 26th. judged by Mrs. Nan Chadwick, kennel Sandygrace, GB.
Bright Enough was NORFOLK OF THE YEAR 2012. He won for instance BOB at "The Big Stockholm Show", for a second time, and won a new title Swedish Winner-12. So now he is: Nordic Juniorwinner-07 Swedish Winner-12 Swedish Champion Guestlings Bright Enough!
---
Ch.Sunrose Fortunate Sun is very, very rare when it comes to Norfolkterriers since he has Championtitles both in showing and "viltspår" a type of hunting.
He is owned by Birgitta Andersson.
---
Champions sired by Tuff are:

Ch.Björshults Kanonkula

Ch.Björshults Legend

Ch.Heinie´s Highland Gold

USA.Ch.Klein Darling´s Tough Sea Sight

Ch.Nässtugan´s Qvadrat

Ch.Redlous Annie Get Your Gun

Ch.Sunrose Fortunate Sun

Ch.Synvillans Näpna Ninni

Ch.Guestlings Big Enough

Ch.Guestlings Charming Enough

Ch.Guestlings Smart Enough

Ch.Guestlings Strong Enough

NORDJV-07 SE V-12 Ch.Guestlings Bright Enough

Ch.Guestlings Fair Enough
---
CC-winners:

Watersheen´s Eagle Feather, 2 CC´s

Sunrose Molina, 2 CC´s

NV-05 Warlock´s Rana, 3 CC´s

Guestlings Cool Enough, 2 CC´s
---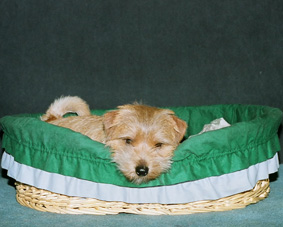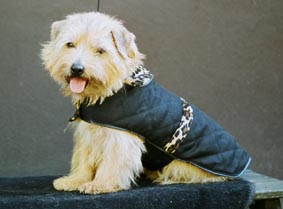 ---