text & foto: Susann Bjorkfall. Copyright.

In this small, compact body there are gathered so many of the nice qualities that can be hidden behind the word DOG. Lots of happiness,total loyalty and a neverending friendlyness.

The Norfolk loves people and is doing everything to please you without being too pushy. The smaller people - the better it seams, in other words they love children. They have very easy to adjust in different surroundings. Very alert outdoors and as a contrast - calm indoors. There are an interest for hunting in some individuals, but the Norfolk is most often not a breed with interest to trace game in the wood, but they take up chasing small quickmoving vermins, probably mostly because it is a great amusement for them. They are excellent ratters - some say they work better than the cat.

Their origin is very variegated. The first "breeders" knew what they wanted, a very small, sturdy terrier with red, harsh coat, quick enough to be a good ratter and also with a temperament suitable for a much loved pet. In the search for this they used small Irish Terriers, Yorkshire Terriers, Glen of Imaal, Dandie Dinmont and small "huntingterriers". Here we have the reason why breeders of today have problems with for example crocked frontlegs, coats of poor quality, size, high set ears or ears with erratic carriage, in their breeding.

As well as any breed the Norfolk Terrier need some education during itīs first year. But this seldom gives any problems. It is simply to learn them who is the boss and to set limits for what is allowed and what is not.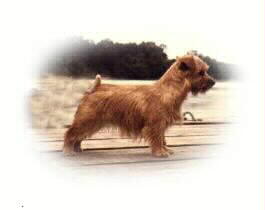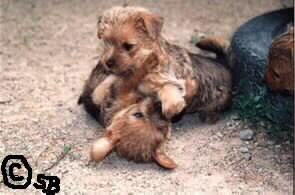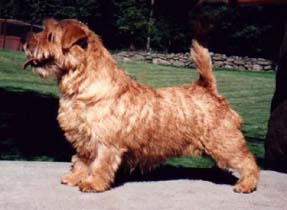 The size of the breed, 25 - 26 cm in height and 5 - 8 kilos in weight, make them easy to bring either you go by car or train. The fact that they charm your fellow travellers with their alert and friendly ways - that is just a bonus !
Not even for the firsttime-terrierowner taking care of the coat should cause any trouble. It simply means you pull the coat about twice a year and in between some grooming. The breeder gladly show you how it is done and then you probably will be able to do it yourself. When it comes to coatpresentation for dogshows, of course it need a little more care and understanding, but still it is not too difficult to learn with some practise.
As you understand you can have great fun with the Norfolk Terrier. Their loyalty make them excellent as your partner in obedience. You can actually see how hard they try to understand every new element and when they succeed the happiness is mutual. They do not say no to a titbit as reward. The happiness you show when the dog is doing the right thing, and a titbit, that is the key to success. Their elasticity and quick way to move make them excellent for the sport agility. You can make a long list, there are Norfolks windsurfing, walking in the mountains, biking (sitting in the frontbasket on the bike), following bloodscent after injured game and searching for mushrooms. But most of all, they are wonderful companions for their owners. Owners by the way, that word feels wrong, you do not own a Norfolk Terrier - you have the honour to be itīs friend!